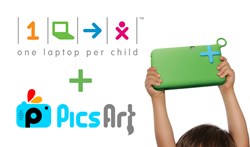 New partnership will deliver robust photo editing capabilities for one laptop per child's XO tablet users.
Mountain View, CA (PRWEB) August 20, 2013
PicsArt, Inc., the world's premier, full-featured mobile photo editor, will be working with One Laptop per Child (OLPC) to bring mobile art to children around the world through OLPC's newly released XO Learning System. OLPC will pre-install the photo-editing app on its XO Tablet developed through a strategic partnership with Vivitar under exclusive license from OLPC. The XO Tablet offers children across the globe access to easy-to-use PicsArt tools such as drawing, color-splash, smart blur and layering for photography capturing, and editing.
PicsArt's selection as one of the only photo-editing tools for OLPC's XO Tablet represents a milestone in the app's growth as one of the world's most innovative photo editing applications. These tools will not only teach children about the different forms of art through photography, they will also provide them with the opportunity to unleash their creativity by turning their photos into works of art.
"One of PicsArt's primary goals is to educate people that everyone has the ability to become an artist. This is why we couldn't be more pleased to team up with an organization like OLPC, which is always making huge strides in educating children through technology on a global scale," said Artavazd Mehrabyan, PicsArt's co-founder and chief technology officer. "PicsArt's easy-to-use photo-editing features combined with OLPC's XO Tablet will give children the fun tools they need to express their creativity."
In addition to providing children with a number of photography options, PicsArt's one-of-a-kind drawing tool will give OLPC kids the ability to express their creativity through their own illustrations. PicsArt's advanced, yet easy-to-use drawing features will allow children with an appetite to sketch to practice their hobby without ever needing art supplies or leaving their XO Tablet.
"Our XO Learning System was created to direct a child's passion, creativity and energy to help them work toward their dreams. OLPC is dedicated to offering a variety of top apps that promote inspired education on our XO Tablet, making PicsArt a perfect fit for our mission," said Rodrigo Arboleda, Chairman and CEO of One Laptop Per Child.
The family-friendly XO Tablet from OLPC is the first and only tablet designed to help kids explore their dreams and spark their imaginations. The only multilingual (English/Spanish) and Google-Certified tablet for kids, the XO Tablet is available now at Walmart stores,http://www.walmart.com and other U.S. retailers through OLPC's strategic partner Vivitar, a Sakar company. For more information, visit http://www.xotablet.com.
PicsArt features a full art studio in a mobile photo app, making professional-caliber tools easily accessible to the average consumer, allowing them to tap their inner artist and have fun creating their own masterpieces. PicsArt's clean, simple and user-friendly design empowers consumers to create unique images in real-time, save them wherever they like or share them on nearly every social media platform.
To learn more, please visit picsart.com, on Facebook at https://www.facebook.com/PicsArtPhotoStudio or on Twitter at https://twitter.com/PicsArtStudio.
About XO Tablet, XO Learning and One Laptop per Child Association
The XO Tablet has been fully designed and developed by OLPCA to harness the power of a connected touchscreen device to create new ways for children to learn. Its launch also marks the global debut of the XO Learning System, designed as a child-centric interface to empower kids to build, learn and dream as part of OLPCA's mission. OLPCA was launched in 2005 at the MIT Media Lab as a project to provide a modern education to every child around the world through access to laptops and connected devices. The organization has since distributed 2.5 million of its specially designed XO laptops to children in 60 countries, and the XO Tablet extends that experience into a modern tablet form factor.
About PicsArt
A division of SocialIn based in Mountain View, CA, PicsArt is a team of passionate developers who shared a sheer frustration that no free photo app seemed to have a robust feature set. When PicsArt launched in November 2011, there were many great one- or two-tool apps, but there wasn't a single free app putting everything a photographer could ever want in one place. PicsArt remedied this problem. A bootstrapped startup driven to profitability by its fiercely loyal community, today, PicsArt dominates the Android market for photography. PicsArt consistently ranks in the top 50 free apps from Google's Play store, and with more than 68 million installs and growing at more than 4.5 million installs per month; PicsArt's development has only just begun.
About Vivitar
Vivitar is a leading provider of photographic, audio and optic devices and related accessories with a rich 75-year heritage of technology innovation and affordability dating back to 1938. Building off the success of its legendary Series-1 lenses and flashes, the company has steadily expanded its product portfolio to include cameras, camcorders, accessories and now tablets tailored to the needs of today's families. Vivitar is headquartered in Edison, New Jersey, with additional offices across the United Kingdom, Latin America, Canada and Hong Kong, and global retail distribution spanning more than 100,000 locations in both mass market and specialty channels. For more information, visit http://www.vivitar.com.
Media Contacts
Susan Frechette
PAN Communications for PicsArt
617-502-4300
picsart(at)pancomm(dot)com
Twitter: @picsartstudio
For the original version on PRWeb visit:Â http://www.prweb.com/releases/2013/8/prweb11039914.htm