By Christine Horowitz
One Laptop per Child Facilitator, Walter G. Byers Academy
The methods of teaching reading and writing have changed very little over the past decade.Proven pedagogy such as guided reading circles, modeled writing sessions and read alouds continue to dominate classroom literacy time, and for good reason. They are highly effective tools that increase student achievement. Why, then, do we want to 'mess things up' with the integration of technology when it hasn't been a necessary component to literacy success in the past?
The answer is twofold. First, recent studies have shown that literacy goal achievement is further increased when using available technologies (Rose) and, second, the XO laptops ensure each and every student has the technology available – 100% of the time.
The blended literacy model adopted and being implemented by Project L.I.F.T. schools and the One Laptop per Child program bring a natural, effective partnership in the classroom that can boost literacy goals for students in grades one through four. The XO laptops ensure that the technology component is continuously available to every child so that the methods outlined below are possible. As an added bonus, the partnership will also increase digital and media literacy skills that are so necessary for our students to be college and career ready.
IMPLEMENTATION OF THE XO IN A BALANCED LITERACY PROGRAMÂ GUIDED READING
The XO is an excellent tool that can engage students in independent reading practice while the teacher is working with a small group or reader.
-Have students use the XO to access online, leveled reading support programs
-Students can use the Speak Activity to sound out difficult words for themselves
READ ALOUDS
Using the XO as a 'spoken book' can offer read aloud opportunities beyond a teacher's capacity that are more individualized to student level and interest. Free online read aloud sites provide teachers and students with engaging readings dictated by skilled orators.
www.barnesandnoble.com (choose KIDS and ONLINE STORYTIME)
PARTNER and SHARED READING
The Get Books Activity allows the student to access thousands of free books in rich text, PDFÂ or HTML formats. Further, teachers can access and/or load leveled books on the XO machine.
Students can perform shared readings while text displays on each XO laptop. Students can toggle between the story and the Speak Activity in order to have difficult words sounded out for them or they can access Wikipedia Activity to investigate topics that they read about. ESL students can use the Words Activity to translate newly learned words from/to English and multiple languages.
MODELED AND GUIDED WRITING
Teachers can use the built in 'ad-hoc' network to connect with students and guide writing instruction. They can also share writing assignments in real-time and several students can collaborate on a single document, including creating graphic organizers together.
Beyond Activities-based guidance, students can use the XO to share writings via the Internet. Studies support the idea that providing a wider audience for writers (i.e. blogs, wikis) encourages students to be more conscientious writers. Also, blogging, creating web pages and other forms of digital media give students real-world experiences in which to write upon and the potential for large amounts of feedback from a varied audience (The Journal).
WORD WORK
The XO is a useful tool for early elementary students as it supports phonics instruction. Students can type in letters, letter blends and words and hear them repeated back, even changing the speed of playback, if necessary. Spelling and vocabulary can be reinforced through a variety of Activities, including a concentration-like game and those that reinforce individual letter sounds and blends.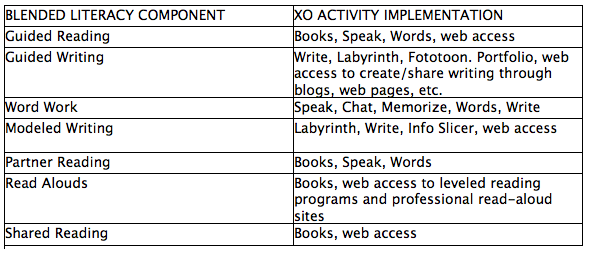 Using the powerful little XO machine for literacy in the classroom is a natural fit that can take every student to a new level of learning literacy.  Add in the important 21st century skills of collaboration and digital media literacy and a teacher can have a hugely successful literacy program that fully engages every student with the learning process.
SOURCES CITED
Rose, David. "The Role of Technology in the Guided Reading Classroom." Scholastic Teachers. Scholastic, Inc., Oct. 2004. Web. 30 Jan. 2013.
"The Journal." Content Delivery in the 'Blogosphere' –. N.p., n.d. Web. 27 Feb. 2013.